IGH Mourns Longtime Colleague Professor Olufemi David Olaleye, FAAS
To our colleagues and global health community,
It is with immense sadness that we inform you of the passing of longtime friend and colleague Professor Olufemi David Olaleye, FAAS on Tuesday 27 July after a battle with COVID-19.
Professor Olaleye was appointed Lecturer I in the Department of Virology at the University of Ibadan, Nigeria in October of 1986, and Professor of Virology in October of 1995. He was appointed Consultant Virologist at University College Hospital, Nigeria in March of 1992, and held the position as Specialist Adviser until he passed away.
Professor David Olaleye was an Adjunct Professor of Virology here at Northwestern University beginning in 2010 to date, and was a frequent visitor to Chicago where he participated in many events alongside our students and faculty.
His continued drive for knowledge and skill led him to be known for excellence in his field, and over the years has won several awards for his distinctive work, and obtained many fellowships and grants for training, such as the National Institutes of Health, National Institute of Allergy and Infectious Diseases, Professional Service Contract where he studied at the Laboratory of Immunogenetics from 1997 to 1998. His wealth of accomplishment and expertise was clearly evident from the structures and systems he built up and sustained throughout his career.
Throughout his longtime partnership with Northwestern, he served as the Principal Investigator of the University of Ibadan MEPI Junior Faculty Research Training Program: UI-MEPI-J from 2015-2021, in collaboration with Northwestern University. This program was an extension of the highly successful Medical Education Partnership Initiative Nigeria (MEPIN), of which the goal was to provide an opportunity to address many of the challenges facing the Nigerian education institutions and to improve and strengthen the medical educational system in the country. Through structured training and mentored research programs, junior faculty members at the University of Ibadan gained enhanced capabilities in research methodology, research management, bioethics training, mentorship, scientific publication productivity and grant writing with the goal to enhance individual research capacity for scientists whose work addresses the priority health needs of Nigeria. 
Professor Olaleye served his nation through the Federal Ministry of Health as Consultant Virologist, National HIV/Syphilis Sentinel Survey Programme from 1999 to 2012, and was Consultant Virologist and Member of the Ministerial Committee on Integrated Disease Surveillance Programme of the Federal Ministry of Health of Nigeria from 2001 to 2005. He was also Director of the World Health Organization's (WHO) National Influenza Centre, University College Hospital, Ibadan, Nigeria from 1998 to date.
He has been described as a brave and brilliant leader, teacher, and mentor, and will be remembered for his talent, intellect, and life of service. We convey our heartfelt condolences to the family, friends and all who knew Professor David Olaleye.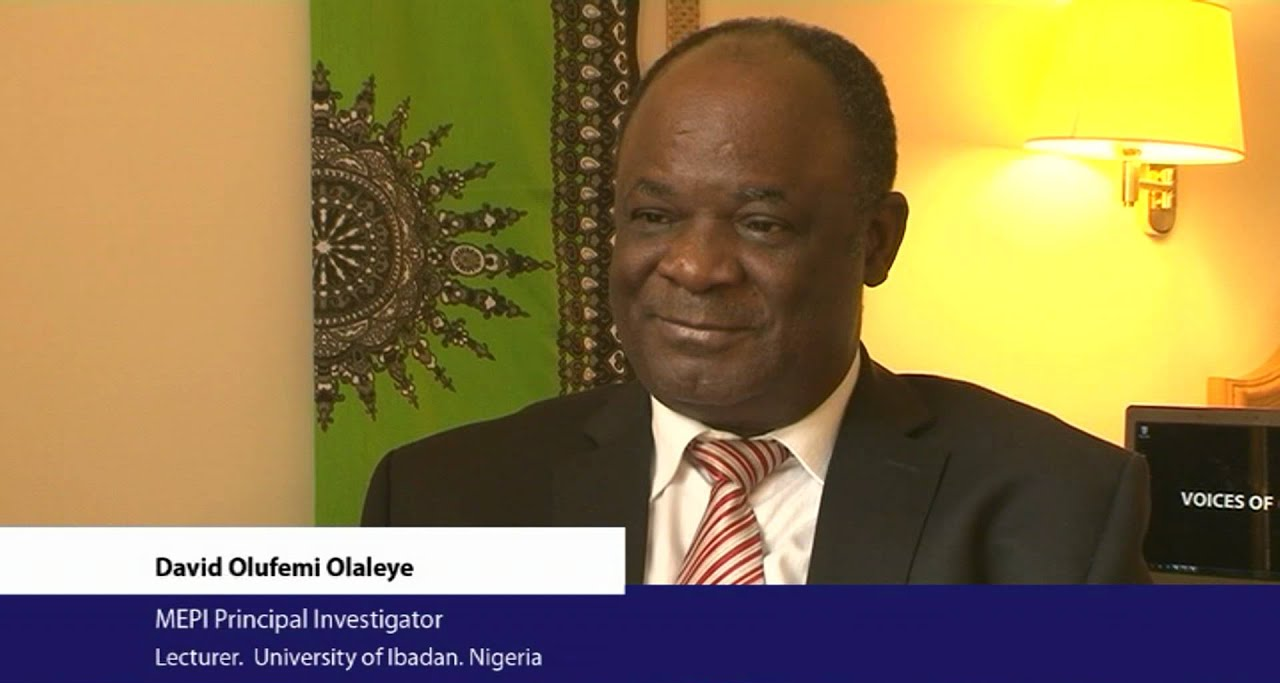 The Institute for Global Health
Feinberg School of Medicine
Northwestern University