Global Health Work in Tanzania with Precious Akanyirige
Precious Akanyirige, an MD, MPH student at Northwestern University Feinberg School of Medicine, has just returned from Dar es Salaam, Tanzania, where she's been living as an HBNU Fogarty Global Health Fellow for the last year. Akanyirige is interested in using implementation science and capacity-building to provide more accessible, high-quality care, both in the U.S. and internationally. In this episode, she talks about her very recent experience in Africa and why she chooses to pursue global health experiences.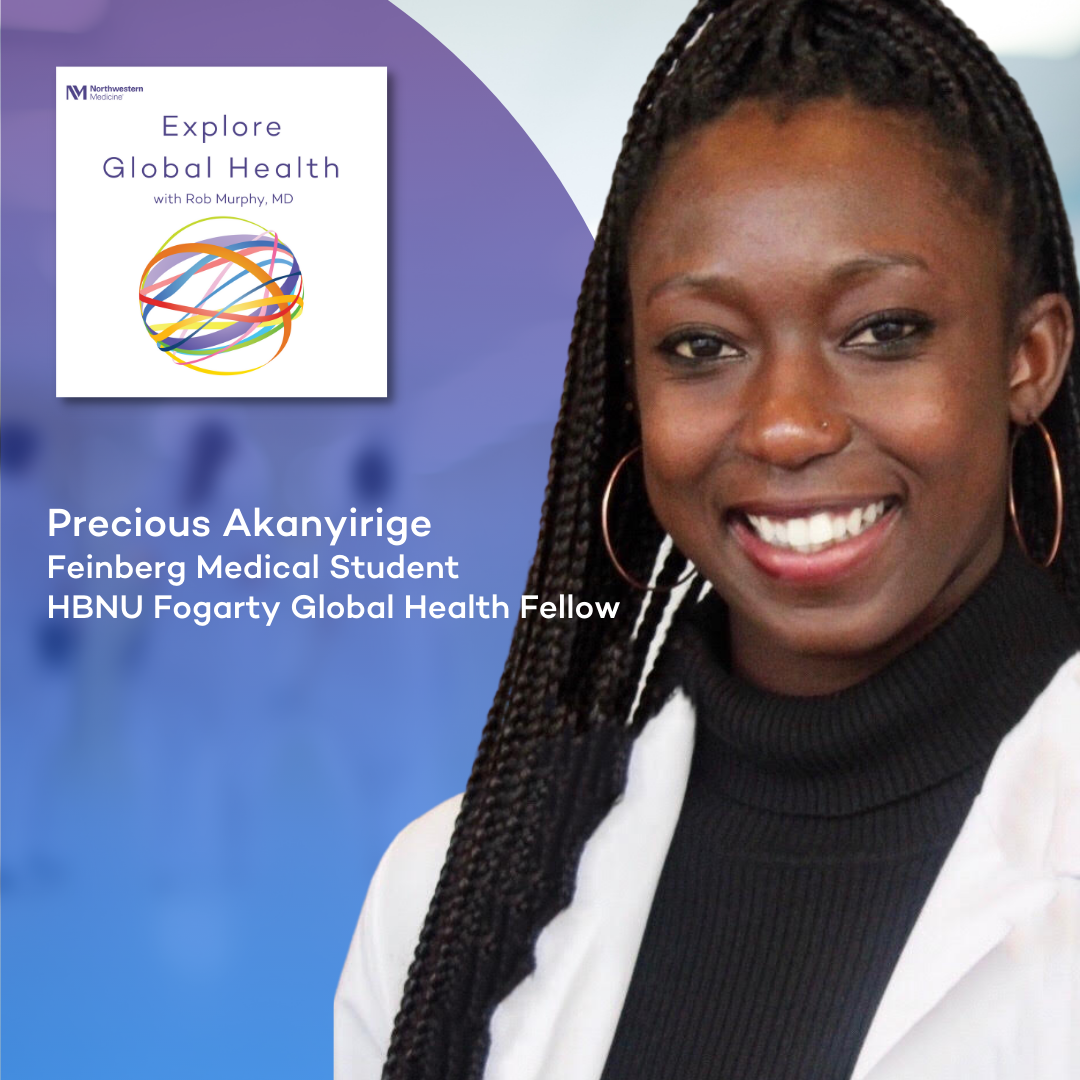 Topics Covered in the Show:
Akanyirige shares her fellowship experience at Muhimbili University of Health and Allied Sciences, Tanzania, having arrived during the COVID-19 pandemic and during President John Magufuli's controversial pandemic leadership.
Akanyirige was looking for a meaningful global health experience where she could not only build lasting partnerships but discover what a career in global health might look like. 
While many global health fellowships only last a month or so, Akanyirige's trip was a full year. While shorter trips require much more planning ahead, Akanyirige shares the benefits of total immersion and explains how what she was able to accomplish in just three months was vastly more than what she might have experienced in just a single month.
Akanyirige's project focused on translation of patient experience surveys into clinical improvements at an outpatient cardiology clinic in Dar es Asylum, a continuation of a project with her mentor, Northwestern's Dr. Lisa Hirschhorn, a leader in implementation science.
Global health ethics is a central topic within the Fogarty Global Health Fellowship, and during orientation, Akanyirige attended a large breakout session on the topic decolonizing global health.
Born in California to two Ghanaian parents, Akanyirige shares her personal relationship to global health access problems affecting her own family members in Ghana. 
A soccer player as well, Akanyirige is an advisor for Girls Soccer Worldwide, a nonprofit organization founded by her former soccer coach who is Paraguayan and his wife. Their mission is to use sports and education to empower girls out of poverty. 
Akanyirige offers advice to Feinberg students who might be considering the Fogarty Global Health Fellowship and shares how global health is not about swooping in and "saving" people, but about building partnerships. She also talks about the value of seeking appropriate mentors, learning languages, and the wisdom of slowing down.
Show Transcript
Rob Murphy, MD [00:00:06] Welcome to the Explore Global Health Podcast. I'm Dr. Rob Murphy, executive director of the Harvey Institute for Global Health here at Northwestern University, Feinberg School of Medicine. Today's guest has just returned from Dar es Salaam, Tanzania, where she's been living as an H.B. New Fogarty Global Health Fellow. Precious Akanyirige is an MD MPH student here at Feinberg School of Medicine. She is interested in using implementation, science and capacity building to provide more accessible, high quality care, both here in the U.S. and internationally. And we're thrilled to have her on the show to discuss her very recent experience in Africa and why she chooses to pursue global health experience. Welcome. And before we start, I just want to say that Precious and I go back to I was just looking through my notes to the 22nd of April 2019 when she came into my office and said, you know, I'm interested in doing global health. What would be a good approach? What can I do? And I brought up this whole concept of the Fogarty Global Health Fellowship Program, which we call Bennu and being used stands for Harvard, Boston University, Northwestern University and University of New Mexico. And we have a consortium. We're just finishing up our first five year cycle and are likely to get a second five year cycle. And you are one of our star fellows in that program. We're very excited to be able to have you on the podcast today because you really went from the very beginning and are ending up at the end of the program of the first cycle of the program. So precious, tell me about life in Tanzania. You just returned a few weeks ago. From your experience as a Fogarty fellow at Muhimbili University of Health and Applied Sciences in Dar es Salaam, an institution we've had a lot of experience with. Tell us about it.
Precious Akanyirige [00:01:57] Thank you so much, Dr. Murphy, and thank you for having me on to talk about this experience. But life in Tanzania was wonderful. It was just in general, seeing a new way of life was a really enriching experience. And so there are a lot of things that I miss. People keep asking me if there was any culture shock when I came back to the U.S. and I don't think so. But the people in Tanzania are really just so kind, so welcoming, so contrary to what I'm walking on the streets here. When you're walking on the streets, I was leaving. I would leave my house and walk to the university. People would always greet you. And it's interesting because it wasn't just a hello. If someone asked you, you would say hi and then they'd say, How are you? And people would actually when I was passing them, they would stop. Even if we'd already crossed paths, they would stop and wait for my response to their question, How are you? Whereas I feel like here it's more, you know, how are you is kind of the same as high and it's just sudden passing. But people are very kind and very intentional that Islam is a city, it's a lively city, you know, different than Chicago. But there are a lot of people, there's a lot going on, oftentimes traffic, you know. So there are similarities. And I think the differences are just then, I mean, differences and food differences and the different activities. I was really able to get into a more artsy scene talking to some different creatives. And so just outside of my research project, really trying to meet people kind of my age and see what their lifestyle was like.
Rob Murphy, MD [00:03:27] That's great. So also, I mean, we're living in it right now, but I mean, you were fellow during the pandemic. Can you tell us, like when you left, what were the issues with the pandemic, how it went over there? I mean, Tanzania has a very checkered history in terms of dealing with the pandemic from first reporting cases, then the president of the country saying that it didn't exist and then him dying of COVID and then a new president. It really has been quite a story in Tanzania. Can you tell us a little bit how you interacted with the pandemic and your fellowship?
Precious Akanyirige [00:04:00] I found out, I think, about getting the fellowship around February of 2021. And so from that point I started monitoring Tanzania a little bit more. And I remember one day I had gone online and just checked the level of COVID cases and it said something like 20 or 80 some. It was a single digit number, and we've been in the pandemic for a while and I thought maybe my source is incorrect. Can't believe everything you see on Google. But so then I started really diving deeper into the response in Tanzania. And so from what I've gathered from even before leaving, but then also talking to people, once I got there, it seemed that the at the very beginning, their former their late president acknowledged COVID. They had a shut down lockdown, quarantine, and it seemed like people were really abiding by that. But then I think to the outside world, it seemed that he kind of flipped the script and was no longer acknowledging Covid's existence, was not really pushing any masking mandates and quarantining. I think it seemed a little bit radical, very stark difference from what we were kind of experiencing in other countries. And so that continued on until he unfortunately passed away and his successor was, I believe, as vice president. And so she's the current president now. And so once she took office, the policies definitely changed and. Seemed like she right away acknowledged it a little bit more than the late president had. And so there was a larger emphasis on masking and there were talks about pushing out vaccines relatively quickly. I think that the vaccine rollout happened around September, August, September of 2021. And so that was really encouraging. Just not in that vaccine were being rolled out, but just in general that there was a bigger emphasis in the community on COVID. I will say that once I got there, talking to people about the late president was interesting because people have had very polarizing opinions about him. And so some people were saying that it wasn't that he did not believe in Colvin's existence, but he was trying to cater to his countries and his people's needs. And so they were saying, we can't have a shutdown. There are a lot of people who rely on de trade. There are a lot of people who rely on human interaction or farming land in order to survive. And so I was able to get a little bit deeper picture of how people view the former president.
Rob Murphy, MD [00:06:25] Back to the fellowship, because, a, it's a very unique program. Like I said, we're in our fifth year right now going into another five year cycle, hopefully soon. Why did you decide to apply for this particular type of fellowship? The Sage Bina Fogarty Global Health Fellowship.
Precious Akanyirige [00:06:40] Well, I'm excited that there's going to be another five year cycle. And it's funny that you bring up our interaction back in. I think you said 2019, because I remember after you told me that I thought, that sounds fantastic and I could never get something like that or I don't know if that's the right path for me, but I think leading up to the application so I've been interested in global health since my senior year of college. I was an anthropology minor and I was able to take a course in global health and that's what really sparked my interest. And then getting to medical school, I went straight from university to medical school. I was always interested in global health but didn't really know the right way to engage with it. So hence my meetings with you and some of the other staff in the faculty in the Institute. I saw that going into my third year. I really wanted to have a meaningful global health experience, and I can only say that I was interested for so long, you know, and I really needed to take that step and go on a longer global health experience and to learn not only about living in a different place and just the day to day life, but also in terms of how to build meaningful partnerships. What does a career in global health look like? And there are so many options or so many tracks, but I thought that this long term, theoretically originally year long experience would be a great first exposure. And I was able to take the time between my third and fourth year. And so I was really thankful for that.
Rob Murphy, MD [00:08:05] Now that's that's great. I'm glad you brought that up because most people that are interested in global health end up with a one month or maybe two month experience in their whole medical school. And this program is a one year program, if you include all the front end and back end components and pandemic issues and everything else. So it's a big jump. Can you tell me, how do you think it compares if you had just had a one or two month experience compared to what you did?
Precious Akanyirige [00:08:38] I think the one month experience could probably go one or two ways, depending on what your goals are going in. If you're really trying to if you're trying to set up a research project that sounds quite difficult to do in a really short period, I think in order to set up a research project in a short time, you would definitely need to have a lot of work done before and you'd have to have a great team that you were already plugged in with and that you can kind of jump into as seamlessly as possible because nothing goes completely as planned. But then you definitely need to have a strong tie with that team to continue to work once you're gone. I think if it was just purely a learning experience, that would be perhaps one of the better situations for a shorter experience, because you can go in, you can just absorb as much as possible. But again, when you have such a protracted time, it just doesn't allow you to really get to know a place. I felt like after spending one month in DA, I did feel comfortable. I was starting to meet people, I was starting to find my bearings. But in hindsight, we even at the three month mark, at the six month mark, at the seven month mark was just vastly different than what I was able to gather in the one month.
Rob Murphy, MD [00:09:46] My Oh, thank you very much. That was exactly the answer I was looking for because if you really want to get your feet wet, you've got to really jump in. Your research goals and the fellowship program included exploring the translation of patient experience surveys into clinical improvements at an outpatient cardiology clinic. Dar es Asylum. Tell me about the project and your interest in utilizing patient reported data to improve clinical care.
Precious Akanyirige [00:10:10] The project was an extension of something that I had been working with with my mentor, Dr. Lisa Hirschhorn, and then our partner, Dr. Lo, at the university. And so. I had gotten connected to Dr. Hirschhorn actually through a few of my other friends who are some of her mentees. And so, again, in my journey to trying to figure out how I wanted to engage with global health, I figured I can get connected with someone at Northwestern as a partner in trying to help me find these longer term experiences. And so we're working on this one project where we created a survey of patient reported outcome measures and patient reported experience measures for cardiology patients, and that was piloted on a sample of 60 patients. And so when the Fogarty came around, Dr. Hirshhorn offered me the opportunity to apply for the authority with a continuation of this project. So in addition to that patient survey, we wanted to conduct some qualitative interviews with providers at the clinic. That's through the Jakaya Kikwete Cardiac Institute, which is on the university campus. And so we wanted to conduct those qualitative interviews with the providers to see what their attitudes, opinions and knowledge about these patient reported measures were. And then we wanted to combine those the qualitative data from the provider interviews and the quantitative data from the patient interviews to create an implementation project where we would implement either a patient outcome or experience measure into the visits with the providers and the patients in the clinic. And so Dr. Hirschhorn is a leader in implementation science. And it's been something that I've been interested in and I've been really thankful and lucky to see to work with her and just learn from her.
Rob Murphy, MD [00:11:51] Now that we got into this issue with Dr. Hirschhorn, you're sounds like your primary mentor. Can you talk about were there any other mentors at Northwestern that helped you in your career path?
Precious Akanyirige [00:12:01] Yes, definitely. I think just in general, all of the faculty at the Institute for Global Health have been extremely helpful and extremely supportive. And again, you mentioned that I met with you early in my medical school career, and I'm someone who if I have a question, I found early at Northwestern that if I just email someone that they're more than welcome to meet with me at least 15 minutes in their busy schedule and providing guidance, provide me encouragement, provide they just share their experiences with me. So there are a lot of people that I met with that I can't name all of them, but I just want to acknowledge that I'm thankful for all of those experiences. But Dr. Hoffman was definitely very helpful and I remember sitting down with him and he was talking to me about the IDP and talking to me more about the Celebrity Fellowship and also about the Fulbright Fellowship, which I also applied for last year through the Fulbright Public Health Award. And so and just he always made himself very available and was just very supportive of trying to partner with me. And I know other students in order to reach our goals or whatever that look like. Also Dr. Should Do by Placide. So I've definitely met with her a few times and she was also the professor for one of my MPH classes in global health delivery, and she's also the faculty leader, director of the Student Advisory Committee for the Institute for Global Health that I'm a part of. So lots of very experienced and very helpful mentors.
Rob Murphy, MD [00:13:29] Great. Thank you. Can you tell us a little bit about your ability to publish papers related to your project or prepare papers for publication? Because a lot of a lot of students want to know or may I be able to put this on my my CV? Is it because this is all going to help or getting fellowship? There's a big importance there. Can you tell us a little bit about the publication process?
Precious Akanyirige [00:13:51] Definitely. I know that's a really hot topic in academia in general, and I think that I definitely have had a lot of lessons in learning about this publication process. And so right now we're working on publishing the script from our qualitative data. So the patient surveys that were conducted even before I went to DA publishing papers is a long process. You know, there is the all the thought that goes into planning the project, conducting the project, cleaning the data, etc. and then writing papers is such an iterative process. And especially for someone like me who's really early in their career, writing is not my strongest suit. And so it takes a lot of time for me to be able to put together my first manuscript draft and then going back and forth with your mentors who are very helpful and very plugged in, but also have a lot of other responsibilities. And so just learning about that process and being patient with myself and learning how to best be helpful as a team member has been definitely a good learning experience. But I'd say a long story long to answer your question. There are definitely a lot of opportunities for publishing and I think in the fellowship they really encourage collaboration. So with perhaps other fellows who may be in-country or even other fellows in other consortiums or in your consortium in other countries there are a couple of meetings where at the very beginning there's a large orientation. So you get to. Meet various people and see what the different projects are that they're doing, what they're interested in. I know my fellow was able to connect with another one of our Fioretti fellows and they were talking about collaborating on something. And so there are definitely a lot of opportunities and I was also writing a paper or am writing a paper that is a literature review that serves to kind of complement the work that we're doing.
Rob Murphy, MD [00:15:44] I'm really glad you brought that up because there's the importance of publishing, which is academic, that doesn't go away ever, by the way. However, it's more than just, Oh, I published three papers. You have your project, you have a main paper, but then you met a microbiologist and then you had met some other people in your cohort of Fogarty fellows. And that all leads to other things. I mean, at the end of the day, it's really kind of hard to even say how many things are related to the project because a lot of them may be tangentially related or just partially related. Just introduced you to something new that was a really a great and comprehensive answer. You've been quoted that you discovered the complexity of global health ethics while you were in Tanzania. Can you elaborate on that a little bit?
Precious Akanyirige [00:16:30] I had heard about various topics in global health and about the history that somewhat very much checkered history of global health and then also learning about, you know, how far we've come and the different initiatives that there are. As with everything in life, nothing is perfect. But I think I got to see and hear a little bit more about some of the issues that people are working towards right now and global health ethics. And so I'd say at the beginning of our fellowship, during that orientation, we had a large breakout session breakout group talking about some different issues with global health. And the topic was decolonizing global health. And so this hearing from other fellows who are at various stages of training, both in the U.S. and in other countries, some of the topics that came up that were striking to me were some fellows in the Global South. We're talking about just even the title of decolonizing global health. Where is that title coming from? Understanding that, you know, we're all trying to work towards more equity in academia and in global health, but sometimes it's also we're still not getting that work in our efforts and also just seeing some of the disparities in salaries among not that I was privy to exact numbers, but whether it was through my project or whether it's through talking to other fellows, just kind of the different things that we've noticed about team dynamics, about pay or about work hours. I remember talking to one attending and he was saying that was potentially an opportunity for me to help out some of the residents there with connecting them with various articles that they needed to write their thesis and just thinking about how, you know, we are hoping for our collaborators to partner with us in advancing our academic careers, but then sometimes they don't have that access to the same journals that we do and various things like that.
Rob Murphy, MD [00:18:20] That's an incredibly important point to, you know, our first podcast was with Judith Lasker. She's written books about this is sociologist. She has a book called Hoping to Help. She brings up a lot of the points you just mentioned. And thank you again for that. You you mentioned while you were Baylor, your undergraduate, you have a bachelors degree, a Bachelor of Science in Biology and a minor in anthropology. Did you know already then that you were wanted to be in global health? 
Precious Akanyirige [00:18:55] I'm a first generation Ghanaian child. So my parents both immigrated from Ghana and I was actually able to go back to Ghana for the first time during the fellowship. So that was really exciting for me to have my interest, my first interest in global health. I think because I have Ghanaian parents, I and my family is Ghana and I'm going in the world has always been bigger than just the U.S. and I've thought about the health access problems abroad, especially when I was younger, one of my favorite cousins passed away and when I was told I was young. So I didn't get a lot of details, but I was basically just told that, you know, he did not have the access to the same access to care that I have. And so if he had been more connected to care, perhaps things could have been different. And so that was always in the back of my mind. And when I was in college, I had heard about various mission trips through the pre-med organizations that I was a part of, didn't have any time to go because I was playing soccer again. That was in the back of my mind. But I think what really sparked my interest in global health and in engaging with global health as part of my career was that class I took in my senior year was taught by and he was an anthropologist, actually Ph.D. MPH. And so I just got to learn a little bit more about various work going on in global health other than just the personal experience.
Rob Murphy, MD [00:20:19] Our Center for Global Health Education is run by Dr. Ashley Dubé Prasad, who you mentioned already, but also by Dr. Bill Leonard in the Department of Anthropology here at Northwestern. So we have a very strong link with anthropology. Before you were medical student, you briefly mentioned this already, but you were a Division one soccer player at Baylor, as my understanding. And soccer has also been an avenue for global travels for you. Can you tell me about girls soccer worldwide, your affiliation with them and how your work with this organization also added to your career development? Because I think it's very important to have, you know, multiple aspects of global interest.
Precious Akanyirige [00:21:02] So Girls Soccer Online is a nonprofit organization. It was founded by one of my soccer coaches from when I was in high school, middle school and high school and his wife. And so the mission of girls soccer worldwide is to use sports and education to empower girls out of poverty. And so it was originally founded because my coach is part Paraguayan. He spent some time there and the community that he was in really had an impact on him. So he always told himself that when I'm older and I'm able to, I really want to come back and give back to this community. And so it started off quite small, but basically they're a group of young soccer players because he's still coaching soccer in Pleasanton, in my hometown, that he kind of got together and formed some schools and some people to partner with down in Coronado, Gardel in Paraguay, and started taking trips down there. And it started off as more of, you know, we're going to go, we're going to deliver backpacks, we're going to put on soccer clinics because girls in the community really did not have as supportive of an avenue to play their field, but they were always taken by the boys and families were supportive of these girls coming together and really just enjoying their sport. There was kind of ten day trip component, but then Soccer Worldwide was also working somewhat behind the scenes to kind of create leaders in the community. So girls from ages 10 to 15, whoever was willing to partner with us and start to lead their own soccer team while girls soccer worldwide was back in California. And so I serve as an advisor, so I'll travel with the team. We haven't traveled in two years, but we're planning our next trip this November, which I'm very excited about. And so I serve as an advisor and kind of helping to plan travel and to kind of assist with some of the leadership roles. But there is a lot of work going on with our whole entire board and planning this leadership curriculum, which is expanded to include more of a year long program for the girls in California, as well as our ambassadors in Paraguay.
Rob Murphy, MD [00:23:03] Sounds like a fantastic program. What kind of practical advice would you give Feinberg students who have an interest in global health?
Precious Akanyirige [00:23:11] Again, I just want to reemphasize that the faculty who are connected to the institute and who are doing work in global health are just very supportive and very excited to have people who are interested in global health, very willing to help guide you along the path. And if they are not able to come at that time to you, they will connect you with someone who is and I would say just reach out, ask questions. You don't have to dove in again with just the nature of global. How's work? You want to be intentional about what you're doing. It's not about, you know, swooping in and saving something or someone. It's about building, in my opinion. It's about building partnerships, and it's really just about achieving equity and health in whatever field because global connections and global partnership things and say outside of medicine. Don't be afraid to slow down. You don't have to join the first research project. You see. You can you know, you can look around, you can talk to people, you can connect with people until you find the experience that you think is right for you. And this is just on the topic of language. I know that it's always encouraged to learn as much as possible, but I just want to underscore that I did not go to Dar with very much Swahili knowledge and people are very welcoming. People are very understanding of that. But also, I think in retrospect, I wish I would have done a little bit more before I got there. I immediately started taking so healing lessons and that was one of my goals going in. But I think just taking that extra step to learn more about a language and the place where you're going, whether there's a large predominance of people who speak English or not, it really just shows that you're trying to connect with the culture. And I had a couple of people ask me, Why did you come here if you don't speak Swahili? Which I think is a fair question. You know, again, although there are a lot of people who speak English, you never know who you're going to interact with. And you just want to make sure you're being as as intentional as possible with your steps.
Rob Murphy, MD [00:25:11] That is really very practical, really great advice. Process. Second, there is a we're so happy to have you here today. I'm so happy to hear by your ear, really. I mean, I didn't know the whole details of how it all finally worked out for you. It sounds like it was a great program for you. It's a great program for other people, too. So, you know, this is a big sales pitch for us to give, make an offering for people who are really serious in global how to do this one year fellowship. We're really looking to recruit more American applicants because it's hard to get people to make that one year commitment. But it looks like whatever you did, it worked out great. And we thank you very much for coming on today and I appreciate hearing from you. Thank you very much.
Precious Akanyirige [00:25:53] Thank you so much, Dr. Murphy. Appreciate it.
Rob Murphy, MD [00:26:01] Follow us on Apple Podcasts or wherever you listen to podcasts to hear the latest episodes and join our community that is dedicated to making a lasting, positive impact on global health.