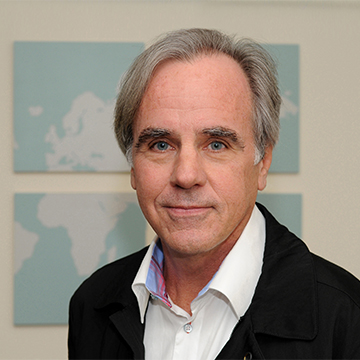 Executive Director, Institute for Global Health
Director, Center for Global Communicable Diseases
John Philip Phair Professor of Infectious Diseases
Professor of Medicine and Biomedical Engineering
Administration
Center for Global Communicable Diseases
Murphy is the executive director of the Institute for Global Health at Northwestern University, where he holds his primary academic appointment as the John P. Phair Professor of Medicine. He also holds an appointment as Professeur Associé de Recherche at the Pierre et Marie Curie Université-Paris in France. Murphy's primary research and clinical interest is in viral infections. His research includes drug development of new antiretroviral drugs and vaccines for HIV and viral hepatitis and the scale-up of therapy for AIDS, tuberculosis and malaria in sub-Saharan Africa.

Murphy is special adviser for the President's Emergency Plan for AIDS Relief program in Nigeria, sponsored by the Harvard School of Public Health, where he has overseen the set up of 42 clinics that currently treat over 75,000 patients with HIV/AIDS. He also consults on NIH-supported antiretroviral education projects in Senegal and is principal investigator for Northwestern's NIH/Fogarty International AIDS Training Grant based in Nigeria and Mali and the Northwestern Fogarty Frameworks grant. International activities and interests include assisting in the establishment of an AIDS Clinic in rural southern Kenya funded by the African Village Clinics Foundation of Chicago.

Murphy is the principal investigator for the National Institutes for Allergy and Infectious Diseases Adult AIDS Clinical Trials Group (ACTG) at Northwestern. Within ACTG, he has held numerous leadership positions, including membership on the Scientific Agenda Steering Committee and Adult Executive Committee, the governing body of the group. He is a member of multiple medical societies and sits on the boards of several non-profit organizations, including the Drucker Family Charitable Trust, the International AIDS Education Project, Objectif Recherche Vaccin SIDA and the Midwest AIDS Foundation, of which he is the founder.

Murphy has been with Northwestern University since 1978. After receiving his AB from Boston University, he attended the Loyola Stritch School of Medicine and later completed his internship, residency and fellowship in infectious diseases at the McGaw Medical Center at Northwestern University. Murphy has remained with Northwestern, becoming professor of medicine in 1999.
View More